Awards Photographer Southampton City College
Last night I photographed the 2012 Student Awards at City College in Southampton. I've covered this event for a number of years and I'm always impressed by the special guests they manage to gain for the occasion. This year was no exception, with Geoff Holt MBE and Silver Olympic medallist, Richard Hounslow.
Photos for this event are now ready to view.
The night started off with the performing arts students doing a rendition of 'We're in the Money' after 250-guests were seated in The Hub. The compère introduced the special guests for the evening.
First to speak was Geoff Holt MBE. His life took a dramatic change when he was sailing all parts of the world at just 18-years old. Now wheelchair bound, he went on to discuss some of his recent achievements which are quite remarkable; and finished with his next ambition of sailing around the world on his own. A task most non-wheel chair users would even entertain. Geoff is truly inspirational and I urge you to visit his website or follow him on twitter.
Richard Hounslow also spoke after presenting the certificates and awards to the students. Richard told his story of the career path he took when he didn't join the army along with his journey that led him to win a Silver Medal at London 2012 in the Men's Canoe Slalom. Richard Hounslow is an exciting character that I can only imagine we're going to see a lot more of in 2016.
Inspiring also, were the students at City College, that won award after award. It's amazing to see so many young people in one room with a passion and hunger to push themselves over such a period of time to achieve the qualifications they've aimed for. Congratulations to you all.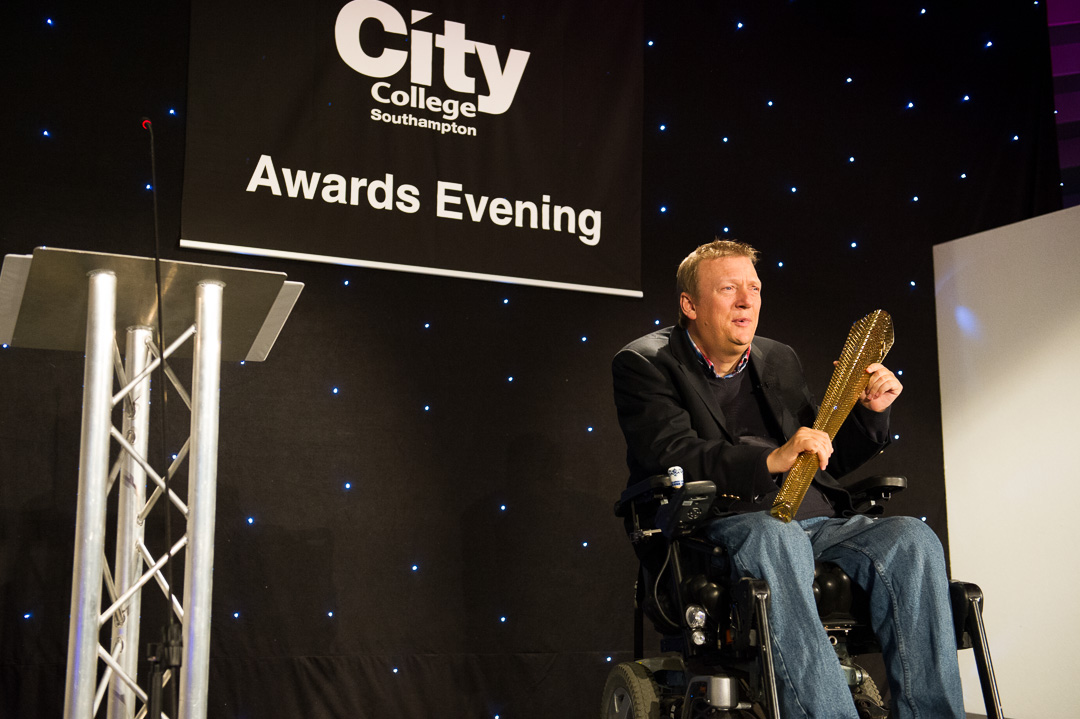 Awards Photographer Southampton City College
Thank you to City College for hiring me to cover their event. A special mention to Myriam at Carswell Gould … thanks for your help, but you're going to need some faster running shoes to keep up with me.
Awards Photographer Southampton by Rob Dunning.